The 'last mile' in any logistics chain is always the most difficult, costly and time consuming.
No matter what sort of economies of scale couriers or delivery companies are able to use as they transport goods across the country, they always become less efficient as they near the point of final delivery. How often have you received a delivery of a small parcel directly from a transit van – or even larger truck?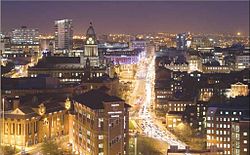 Last Mile Leeds now offer an alternative. We can handle collections and deliveries in Leeds city centre and with a conveniently situated hub, in the city centre but with easy access to the city centre loop and motorway networks, we will be ideally placed to receive and pass on to larger long-distance couriers.
So, if you are interested in 'greenifying' your distribution chain, either as a courier or as a consumer please do get in touch with us through our Contact Page.