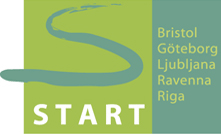 What do Bristol, Göteborg, Ljubljana, Ravenna and Riga all have in common?
They were the five European cities involved in the START (Short Term Actions to Reorganize Transport of goods) project which ran from 2006-2009.
From their site:
Acknowledging that the current system of goods distribution is rich in emissions and not necessarily energy efficient, the five cities of START has implemented a mixture of complementary long-term planning actions, for the reduction of the need of transport, with short term initiatives, such as access restrictions, consolidation centres and incentives. The approach of the project is based on the close collaboration between city governments, transport companies and local businesses formalised in local freight networks, which have been established in each START city.
The idea is simple. By having delivery hubs on the outskirts of these cities, which can receive goods on behalf of city centre retailers and businesses, and can then consolidate these into fewer vehicles, there is a saving of delivery costs, as well as reduction in traffic and CO2 emissions. The scheme was promoted through additional delivery restrictions and incentives for those using the scheme.
Would such a scheme be effective in Leeds? And what sort of role could cycle couriers have? There are clearly numerous empty buildings within a short distance of the city which could act as a delivery hub. The majority of retailers are within a pedestrianized precinct which is restricted to vehicles between 10.30am and 4.30pm, and although many of these are large enough to have staff able to receive deliveries outside normal business hours, for the small independant retailer, such restrictions can be problematic.
Cargo bikes can offer an effective solution to this problem. Should Leeds ever consider such an initiative, Last Mile Leeds are already perfectly positioned to take advantage.